Richon Chem Weekly Report 6PPD&CBS
2018-11-09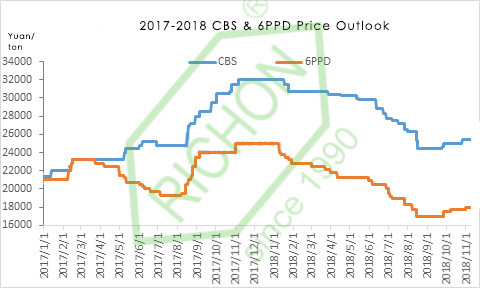 Richon Chem's weekly report analyzed that, the Rubber Additive shows a flat situation in this week.
This week, the price of aniline is lower than last week. Until this Thursday, aniline price in Shandong and north China reached 7600-7660 yuan/ton. Most of the rubber accelerator is stay in a flat situation. However, rubber accelerator MBT is still in a tight supply situation. After the supply of solvent method MBT is tightened, the price rises. This week, the policy had a great impact on the supply of accelerator, especially some factories in Shandong and Hebei were still limited in production, and some early stopped factories were still not restored. Meanwhile, the rubber antioxidant TMQ factories are still tight; some local factories are still limited to work. Some rubber antioxidant, such as 4010NA, are raised a little bit under the tight supply situation, other products like TMQ is gently. The construction of tire and other rubber products is still low, and the demand for rubber additives is not much.
So Richon Chem predicted that in the short term, aniline prices are still expected to fall, positive rubber additives production costs, but at the same time, it might pull down the price of some of the relatively stable supply of rubber additives. For some tight supply of rubber additives, such as 4010NA and solvent method MBT, the price maybe continue to rise. The tire and other rubber products still do not pull the demand of rubber additives, rubber additives business are still under a huge pressure.