Acid-Base MBT Solvent Method MBT
2018-10-25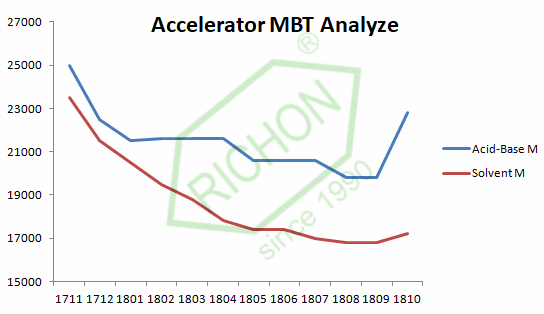 MBT Marketing Outlook
Richon Chem analyzed the Chinese local Acid-Base Method MBT and Solvent Method MBT price in 2018, and the figure shows that the price of the Rubber Accelerator MBT in 1-3Q of 2018 is slow downtrend, with the market price dropping down by 20%. Price is increasing in Q4, Acid-Base Method MBT's price increase very quickly and cargo is short in the market.
The price difference between two methods is maintained at around 3000 yuan/ton from 1000 yuan/ton originally.
Acid Base M prices even showed a small rebound after July, so Richon Chem has the idea that the price of raw materials might be driving higher. Based on the main raw material of Acid Base M, aniline, sulfur and carbon disulfide, the price shows a downward trend, which has little impact on the rise of M.
The imbalance between supply and demand is also one reason for the current high price of rubber accelerator MBT.
For procurement, expect those who can supply by their own, others most likely use acid-base MBT to produce other rubber accelerator such as NS and CBS, also resulting in a continuous tight supply situation in the market
Richon chem. believes in the short term, the supply side continued to be tight situation, rubber accelerator MBT prices may remain high collation situation. Price will increase quickly from Feb., 2019 after Spring Festival. It'll bring other accelerators such as CBS, NS's price up.