2018 season 4 aniline marketing outline
2018-11-05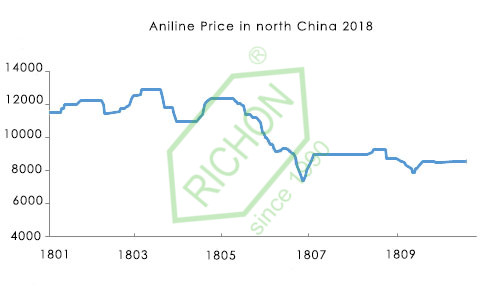 Richon Chem takes attention for aniline oil's position.
As one of most important raw material for accelerator MBT, recently, the price of Aniline might shows a decrease because of the increase supplying. Meanwhile, the expectation of rubber accelerator also will appear weakness.
The above figure shows the price trend of aniline in north China since the beginning of this year. The price of aniline touches the bottom in June, falling to 7,400 yuan/ton, and maintained the trend of shock consolidation in the subsequent trend. After entering September, the average price remained around 8,500 yuan/ton.
As the main raw material of rubber accelerator, aniline's prices continue to decline after the end of October. One of the reasons is that Shandong Dongying region Jin Ling factory aniline devices discontinued more than a year and now restart again. They predict that aniline will get ready at the beginning of November. This will impact the current relative stability of aniline market supply, leading to a price declination trend.
The downward trend of the main raw material aniline, on the one hand, cause the production cost of the rubber accelerator MBT getting much lower, on the other hand, it might depress the price of rubber accelerator industry, such as: CBS and NS. The price of rubber accelerator might be stay or less than the current situation.
Richon chem. also takes attention for the government's environmental protection control in this winter. We'll send more market's report for your reference soon.